Getting Started: One-click Update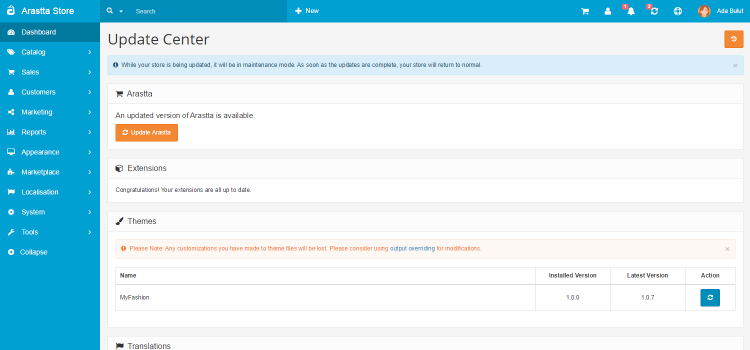 Keeping your online store up-to-date is extremely important for your store security. Updating is pretty easy with popular CMS softwares like Joomla and WordPress as they offer one-click updates for years (WP since 2008). Even more, since 2013, WordPress offers automatic updates which means the system updates by itself in the background. However, the update process for others like Drupal and OpenCart is a pain in the neck. You have to carefully follow a bunch of steps over steps.
Thanks to Arastta, same as with WordPress, you can roll out updates from its intuitive Update Center to stay current and safe. Your store is up-to-date and safe.
Just One-click
This may sound as a dream for OpenCart users, especially after the nightmare 2.0.2 upgrade, but it's true. Updating your store is just one-click away. Moreover, as mentioned in the Philosophy statement, Arastta attempts to keep API change to a minimum in order to make extensions/themes compatible.
Update Everything
The update center of Arastta is not only for the core but also for themes, extensions and translations. You can udpate your extensions within one click.
Notification System
Arastta automatically checks for new versions once per day and notifies you through the top/header bar if any update is available.
Feel free to try it. It's totally FREE..