Getting Started: Installation Eased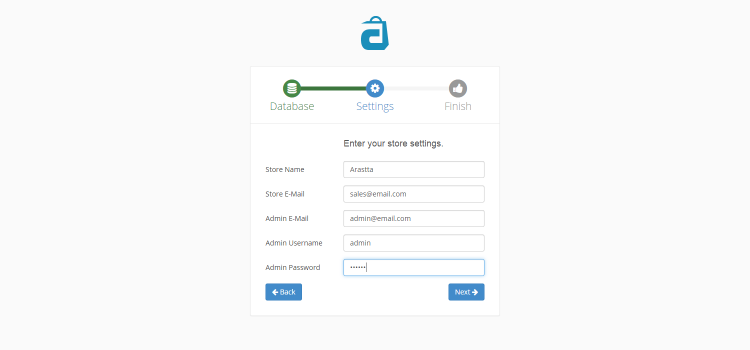 Installation is the most important part of a software. It's also the less part studied on by developers as they mostly think the user have to install it in any way, with ease or hard. With Arastta, we did the best to see this step from the user prespective and make it as much easy as it could be. We've made tons of meetings and compared a lot of popular web and desktop based softwares already out. You will enjoy the clean installation process of Arastta, definitely it's not a rocket science.
3 Steps
Same as with the checkout page, the installation process is done in just 3 steps. Thanks to its fancy indicators, users can easily know where they are in the installation process and what else needs to be done to complete it.
No Server Info
Unlike with other systems such as Joomla and OpenCart, Arastta doesn't show any information about your server/system unless it doesn't meet Arastta's requirements. Users go to the installation page to install the software, not to learn their PHP or MySQL or cURL versions so Arastta doesn't show what they've not asked for. Forget the installation process with bloated server info.
Automatic Actions
With OpenCart, you have to rename the config-dist.php files, create a database and delete the installation folder after the process. I know, we're in 2015. Such actions are automatically done by Arastta.
Ready to go? Here you have it, for FREE..