Getting Started: Checkout Simplified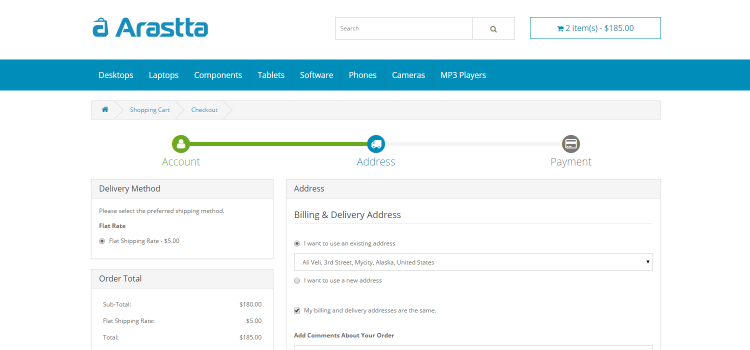 Checkout; the most crucial part of eCommerce, the page you get paid. A constant struggle in eCommerce conversion rate optimization is reducing shopping cart abandonment. Your visitors have shown a great deal of interest in your product, they've even put it in their shopping cart, so why are you still losing two thirds of them? Analysis identifies that checkout process is one of the most important factor for your conversion rate. A fast and smart checkout can boost your sales up, whereas, a lousy checkout can significantly reduce it. If your online store's checkout process helps customers fill forms quickly without hassles, they're guaranteed to convert.
Arastta's checkout page is a complete rewrite of the OpenCart. The look and feel and functionality is totally different and it incorporates a lot of new features that are quickly becoming the standard for modern Web applications.
3 Steps
That's right, just 3 steps and your customers will finish their order. After a lot of meetings and compared the systems already out, we decided to make a 3 step checkout. We've also evaluated the real 1 page checkouts, all fields being displayed at once, not OpenCart's 6 step. From the User Interface (UI) aspect, the 1 page checkout is cool but from the User eXperience (UX) not. There are too much fields displayed in all which scares and distracts the customer leading to abandon the order. The customer also has to go up and down to fill all of them.
The OpenCart's one is a total fail as it asks unrelated data in unrelated steps and there too much steps which causes delay on order and so on abandonment. Think about, a customer logged in can finish the order within just 2 clicks in Arastta while in OpenCart it requires 5 clicks. That's why there are 10000+ orders placed for the checkout extensions of OpenCart, to replace the poor default one.
The first step of Arastta's checkout page asks just for the account details such as login, guest or registration fields. The second one includes address details and selection of delivery method, if required by products in the basket. The third and final one shows the order summary and offers the selection of payment gateway. The customer can select a different payment gateway with ease without collapsing anything.
Progress Indicators
Thanks to its fancy indicators, with Arastta, customers can easily know where they are in the checkout process and what else needs to be done to complete the order. The progress bar at the top of each checkout step shows a visual indicator of the linear checkout process.
Ajaxified Checkout Process
The checkout process is completely Ajaxified so user don't need to navigate from one web form to another. Data submitted is retained in session which helps if customer want to edit information by going to previous step during checkout process. If any error occurs then it will show at same place, no page reloading.
Responsive Design
And of course that all of these beauties are available on all devices, including mobile phones and tablets.
What are you waiting for? Try now, it's FREE..