Getting Started: Theme Customizer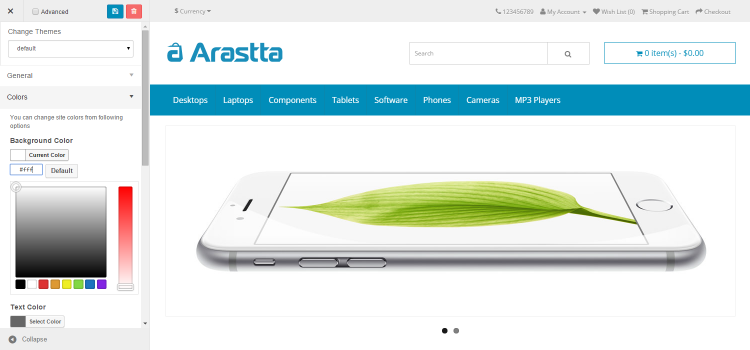 Change the look and feel of your store with real-time preview. As said in another post, the success of a software is based on the way it ease your processes. With the built-in Theme Customizer of Arastta, you can change your storefront look, color scheme, fonts, and more live on site. No HTML or CSS knowledge required!
Let's say you want to change the background or button's color, with Arastta, there is no need to edit CSS. You can just open Theme Customizer and choose the desired color for the corresponding element.
Live Preview
As the new web technologies tend to move from "cool code" to "cool interface", we implemented an extremely easy to use theme customizer with live preview support. Whatever you do in the left side, is automatically applied to the right side so you could easily see how it looks like. You can change a lot of things such as colors, images, backgrounds etc. from there. You can change the style from full width to boxed and viceversa and also add custom CSS and JavaScript code.
Extendable
Another cool part of The Customizer is that you can extend it by just editing the customizer.json file in the root of your theme.
Super Fast
Unlike with similar feature on other CMS softwares, Arastta adds the changes into a custom CSS file which affects the page load at 0%.
Feel free to try it. It's really FREE..