Getting Started: SEO Boosted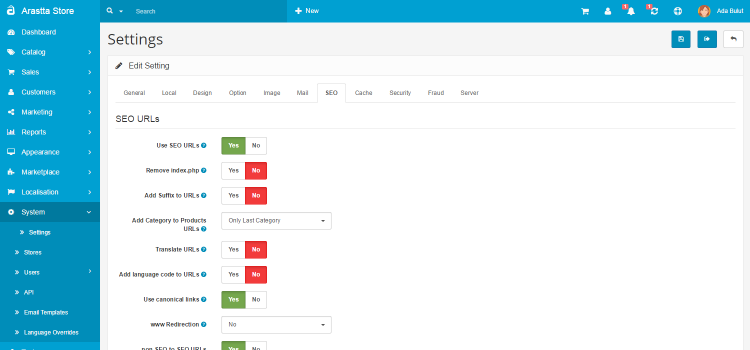 The significance of SEO within a business strategy is evident, as companies that have adopted the use of SEO are outperforming their competition. For online retailers, eCommerce SEO creates an enormous boost in viewer traffic, which naturally results in increased sales and the ability to reach an exponentially larger group of potential customers. Even with advertising campaigns, SEO should be a main feature in building them, since they play a huge part in bringing new customers as well as existing ones.
Arastta's SEO is built on top of our 7+ years of experience as developers in SEO field. One of our Joomla components, MijoSEF, is being applied with success by a huge number of Joomla sites.
SEO URLs
As you may know, the 3 musketeers of SEO are Title, Heading and URL. Of course that Content is King ;) The lack of SEO features has always led OpenCart users to paid extensions, most of them starting from $50. Arastta comes with SEO URLs enabled by default, without the requirement of htaccess change. Add Suffix to URLs option allows you to append the .html extension to the SEO URLs. There is also an option where you can select the way categories are prepended to products' SEO URLs. The SEO URLs are also generated automatically if you leave it empty, based on the product, category, information, manufacturer name.
Avoid Duplicate Content
Arastta's SEO makes the pages of your store to have unique URLs. By default, in OpenCart, you can access a product page with different URLs. Thanks to its redirection and canonical options, if anyone tries to access the non-SEO URL (i.e. index.php?route=common/home), Arastta redirects him/her to the respective SEO URL. Such a crucial features prevent duplicate content penalization by search engines. The www redirection does also serve for the same purpose. The slogan is clear: Single URL.
Multi-language SEO
For stores selling globally the core OpenCart is not applicable as it doesn't support multi-language SEO URLs. With Arastta, you can have SEO URLs based on the active language. For example product.html in English, prodotto.html in Italian. You can also prepend the language code (en, it) to the SEO URLs.
XML Sitemaps
XML sitemaps serve a very niche purpose in SEO: facilitating indexation. Posting an XML sitemap is kind of like rolling out the red carpet for search engines and giving them a roadmap of the preferred routes through the store. Arastta offers you separate sitemaps for categories, products, manufacturers and another one including all of them.
All these techniques will boost the SEO rank of your store.
Ready to go? Here you have it, for FREE..